IRIS Hospital is a venture of Tulips Healthcare Pvt Ltd. This is a Private Limited Company established in 2014, with the goal of starting a multi speciality hospital in Anand.
It is a basically a merger of three major hospitals existing for the past 25 years in Anand namely, Shrey Hospital (Orthopaedics Hospital), Vedant Hospital (ENT Hospital) and Parimal Nursing Home (General Surgery Hospital).
It's also a joint venture of eight surgeons from varied surgical specialities like General & Laparoscopic surgery, Orthopaedics & Joint replacement surgery, Spine surgery, Head & neck surgery and Maxillofacial surgery. Though all the surgeons are from different surgical specialities, but there is one common vision amongst all 8 surgeons, the vision of providing state of the art healthcare facilities in imparting solace to the sufferings of all the strata of the society at affordable cost. The team is a perfect blend of experience and expertise of senior surgeons with the enthusiasm and dynamism of slightly younger surgeons.
The IRIS hospital is a 100 bedded hospital located in Anand city. It is away from the stuffy and noisy environment of the city. The Hospital is spread around a 3000 square meters land, amidst peaceful and natural surroundings, to provide a conducive atmosphere perfect to promote healing and instigate a sense of well-being amongst all patients coming to the hospital. The hospital is equipped with 6 state of the art operation theatres with all the latest and modern surgical gadgets, a 8 bedded state of the art Intensive care unit to manage all kinds of critically ill patients, a 6 bedded Trauma & Emergency unit to cater all kinds of surgical and non-surgical emergencies and a fully equipped laboratory and radiological services. There are separate general wards for male and female patients, special rooms and suite rooms to cater the needs of all strata of the society.  In a nut shell it's a multispecialty hospital that provides comprehensive healthcare under one roof.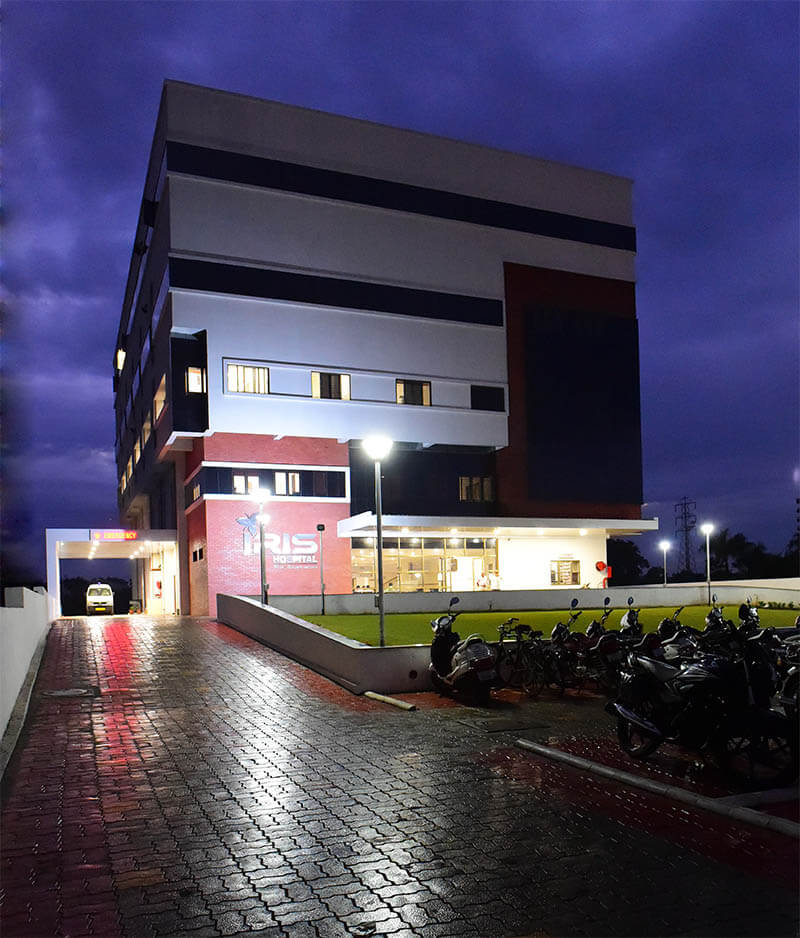 IRIS Hospital boasts itself as a comprehensive healthcare hub, rather than just a super speciality hospital. It caters all patients suffering from vivid variety of medical ailments, and has a state of the art healthcare delivery systems of all the multispecialty and super specialities under one common roof.
IRIS Hospital has a special focus to cater the needs of international patients. To meet the expectations, deliver quality healthcare and maintaining safety and comfort of international patients, IRIS hospital has appointed a dedicated team of coordinators who have left no stone unturned. This team looking after the international patients really makes them feel at home in true sense.
GLIMPSES OF IRIS HOSPITAL
100 bedded Multi-Specialty Hospital providing complete healthcare solution at a reasonably low cost as compared to other corporate hospitals in nearby cities and across India
Protocol based medical expertise matching international standards
Its location away from the stuffy and noisy environment of the city, amidst peaceful and natural surroundings, to provide a conducive atmosphere perfect to promote healing and instigate a sense of well-being amongst all patients coming to the hospital
6 state of the art operation theatres with all the latest and modern surgical gadgets, a 8 bedded state of the art Intensive care unit to manage all kinds of critically ill patients, a 6 bedded Trauma & Emergency unit to cater all kinds of surgical and non-surgical emergencies and a fully equipped in house laboratory and radiological services running 24*7
Compassionate and caring nursing and para medical staff